UPCOMING EVENTS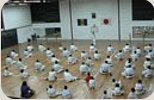 March 28, 30 & 31 2019
SPECIAL TRAINING
Shuseki Shihan Frank Woon-a-Tai will be conducting a series of classes for all ranks. All BKA members are invited; don't miss this experience!
Thursday March 28 at Queens College - Yellow to Purple Belt - 6:00 PM, Brown and Black Belt - 7:00 PM.
Saturday, March 30 at BSKC Dojo - Yellow to Purple Belt - 3:00 PM, Brown and Black Belt - 4:30 PM.
Sunday, March 31 at BSKC Dojo - Black Belt - 3:00 PM - 6:00 PM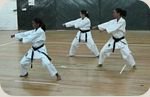 Fri, Mar 29 2019
GRADING - ALL RANKS
The Barbados Karate Association Grading will take place at 6:00 pm on Friday, March 29, 2019 for all ranks at the Barbados Shotokan Karate Club dojo in Hastings. The following form is required for Dan Examination and two (2) copies must be completed and submitted in hard-copy to your Instructor, accompanied by relevant fees and one passport-sized photo -
IKD DAN REGISTRATION FORM
(Download; open in Adobe Reader; click Fill & Sign, Add Text; then Save or Print).
Mon, Apr 1 2019
BKA AGM
The Barbados Karate Association's Annual General Meeting will table place at the BSKC Dojo in Hastings on April 1, 2019 at 5:45 PM. All BKA members 16 years and older are invited to attend. Please note there will be no classes for BSKC members on this day.

May 2019
SQUAD TRAINING
The Barbados Karate Association will commence training for all local, eligible IKD karatekas interested in representing Barbados at the upcoming Caribbean Karate Championships.