UPCOMING EVENTS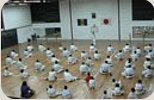 Sat, Jun 13 2015
BKA KARATETHON
The annual BKA Karatethon will take place at the BSKC Dojo in Hastings on Saturday, June 13, 2015. Come and join our students as they take part in a marathon of karate and other exciting activites from 4:00 PM until 12:00 AM midnight! Food and drink will be on sale. Come out and support us. See you there!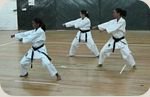 Sat, June 20 2015
FUNDRAISING FETE
Join us at Pier 1 nightclub in Cavans Lane as the BKA presents "No Retreat, No Surrender", our fundraising fete on June 20, 2015. Doors open at 9:00 PM and tickets are available for $20 from any BKA club or $25 at the door. Proceeds are in aid of sending a team to the IKD World Cup in Toronto, July 15-20.
July 2015
GRADING CLASSES
The next BKA examination will be held in July 2015 which is just a few weeks away! Please ensure you attend as many classes as you can in preparation and listen out for upcoming Grading dates.

Feb - July, 2015
BKA SQUAD TRAINING
The Barbados Karate Association will be holding training sessions for those students who wish to be selected to represent Barbados at the upcoming IKD 2015 World Cup in Toronto, Canada in July. Training will take place each Saturday at the BSKC Dojo in Hastings at 3:00 PM sharp. Students are reminded they must attend a minimum percentage of classes to be considered for team selection.