UPCOMING EVENTS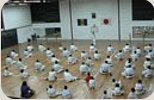 Mon, Jan 5 2015
HAPPY NEW KARATE YEAR!!
Welcome back!! We hope you had a relaxing holiday and are feeling ready to get back into shape. The Barbados Shotokan Karate Club's 2015 training starts Monday, January 5. We have an exciting schedule of classes lined up, designed to knock off the rust and get you feeling fit and ready for the next step of your karate journey.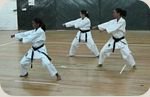 Fri, Nov 7 2014
GRADING - ALL RANKS
The Barbados Karate Association Grading will take place at 6:00 pm on Friday, November 7 2014 for all ranks at the Barbados Shotokan Karate Club dojo in Hastings. The following form is required for Dan Examination and must be completed and submitted in hard-copy to your Instructor, accompanied by relevant fees and two passport-sized photos -
IKD DAN REGISTRATION FORM
(Fill online or right-click and "Save Link As").
Sat, Dec 13 2014
BKA AWARDS & DINNER
The Barbados Karate Association will be hosting it's annual Awards and Dinner on December 13, 2014 at the Queen's College School Hall. The event will begin at 6:30 pm and will include a sumptuous dinner accompanying the presentation of awards to the Association's most outstanding karateka during the past year. Dress is formal and tickets are $30, available shortly from BKA members. All are invited!

Nov - Dec 2014
BKA FUNDRAISING RAFFLE
The Barbados Karate Association's fundraising raffle has been extended. the new draw date is January 31, 2015. We invite you make a donation and get a chance to win one of 5 exciting prizes. Raffle chances are available through any BKA member and funds raised will be used to send a team to represent Barbados at the 2nd IKD World Cup being held in Canada, July 15-20, 2015.