UPCOMING EVENTS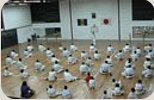 Sat, Jan 31 2015
MOVIE NIGHT
The BKA Fundraising Committee will be hosting a Movie Night at the BSKC Dojo in Hastings on Saturday, January 31, 2015. Food and drink on sale! Start time is 6:00 PM. See you there!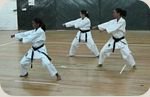 Fri, Feb 13 2015
SPECIAL TRAINING - ALL RANKS
A special training class for all ranks will be held on Friday February 13, 2015 at the BSKC dojo. Training starts promptly at 6:00 PM and students are encouraged to attend and to be early!
Feb & Mar, 2015
GRADING CLASSES
The Barbados Shotokan Karate Club has scheduled extra classes for those students desirous of taking the March 2015 Grading Exam. These classes will be held at the BSKC dojo in Hastings and will take place each Saturday at 2:00 PM sharp! Come out and take advantage of these extra grading classes!

Feb - July, 2015
BKA SQUAD TRAINING
The Barbados Karate Association will be holding training sessions for those students who wish to be selected to represent Barbados at the upcoming IKD 2015 World Cup in Toronto, Canada in July. Training will take place each Saturday at the BSKC Dojo in Hastings at 3:00 PM sharp. Students are reminded they must attend a minimum percentage of classes to be considered for team selection.